How do you prepare your online store for Black Friday (November 23, 2018) & Cyber Monday (November 26, 2018)?
The key is to start planning and preparing now! Your customers will be expecting sales everywhere especially considering that in 2017, American consumers spent nearly $20 billion online over the period of Thanksgiving to Cyber Monday.
We've got 5 ways for you have your most successful Black Friday & Cyber Monday ever!
1. Email Marketing
Consumers who receive email marketing spend 83% more when shopping. Connect your brand with your customers using email marketing. 41% of commercial emails are opened on a mobile device nowadays, your customers are able to receive and read your emails anywhere and any time of day. Create an email with a great subject line that will attract their attention!
One Week Before
Promote your upcoming Black Friday and / or Cyber Monday sale
Inform your customers about the upcoming online deals with a professionally put-together email newsletter
Day Before
Send a friendly reminder of the upcoming sale for Black Friday and / or Cyber Monday deals that you'll be offering
The Day Of
Send an early email the day of Black

Friday

and / or Cyber

Monday

as another reminder of your sales event
Here are some more examples courtesy of sumo.com!
You can set up giveaways and or discounts. You can use a scratch-off and win type of graphic to help them get excited about the prospect of getting a discount on top of a good deal!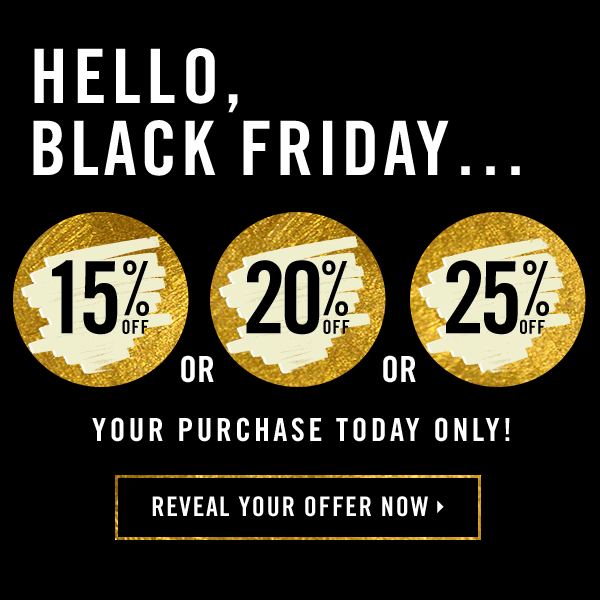 *Bonus Tip: Grab their attention!
Use power words such as 'limited time' or 'while supplies last' etc! This is our favorite handy list of power words that you can use.
2. Setup "Holiday" Categories On Your Website
Allow your customers to easily find your seasonal categories such as "Black Friday", "Cyber Monday" and /or "Gifts for Him/Her" on your website. Your goal is to make it as easy as possible for your website visitors to find the products they are looking for and make a successful purchase with as few clicks as possible.

3. Countdown to Your Promotions
Customers loves countdowns, because they are exciting! Bring excitement to your website by having a visual countdown module to your Black Friday/Cyber Monday Sale.
4. Retargeting Ads
In a nutshell, Retargeting Ads convert window-shoppers into buyers. Generally 2% of shoppers convert on their first visit to an online store. Retargeting brings back the other 98%. It keeps track of customers who visited your website and displays your retargeting ads to them as they visit other websites online.
5. Social Media Ads
Lastly, consider running ads on social media to boost traffic to your online store.
For Shopping Cart websites, the key to a successful Black Friday and Cyber Monday is to prepare early! Determine your Black Friday and Cyber Monday campaigns, set your goals, then choose a strategy that will reach your business's goals.
Also, it's a good idea to start thinking about your e-commerce store for 2019. We're preparing all of our Magento stores for the move to Magento 2. Let's talk if you're looking for help staying ahead of the competition!